Two whistleblowers from within Facebook speak out on James O'Keefe's Facebook page about how Facebook has recently suppressed information from accounts that were deemed to be "Vaccine Hesitant."
BREAKING: Facebook Whistleblowers Expose LEAKED INTERNAL DOCS Detailing New Effort to Secretly Censor Vaccine Concerns on a Global Scale," O'Keefe posted about a Health Integrity whistleblower who discussed the methods to "quash" discussion about COVID 19 and vaccines.
Talking about how Facebook judges content, the whistleblower told O'Keefe about how Facebook posters have their content judged.
"Facebook uses tiers to classify posters. People can have all of their content suppressed. They have to match the narrative," he told O'Keefe.
James O'Keefe has been banned from using Twitter, but others did post his content.
BREAKING: @Facebook Whistleblowers Expose LEAKED INTERNAL DOCS Detailing New Effort to Secretly Censor Vaccine Concerns on a Global Scale#ExposeFacebook pic.twitter.com/8VBYQSdxlz

— Eric Spracklen🇺🇸 (@EricSpracklen) May 25, 2021
"Facebook uses classifiers and looks for people posting about vaccines. It is a beta test, we have weekly progress checkers," the whistleblower told O'Keefe and showed him some internal documents.
"Facebook is trying to control content before people even see it. Because if people accept being treated this way now with COVID they will accept anything on other topics and it will spill out to other sites. It is kind of like having a relationship with someone who controls you and doesn't let you speak. There are about 25% of the people at Facebook who agree with me that this is wrong," the whistleblower said.
"To those people who agree with me, I would say, you are not alone. The biggest thing with social media is that we have seen throughout the years is that ranking people's posts and even their news, if was easier to go along with it than to say this is wrong, but you should speak out knowing you did the right thing," the second whistleblower said.
FROM JAMES O'KEEFE
*TWEET OUT THIS VIDEO BY CLICKING HERE*
Two Facebook Insiders have come forward to Project Veritas with leaked internal documents, showing the Big Tech giant's plan to police "Vaccine Hesitancy" (VH) through surreptitious "comment demotion."
The company has set up a tier system to rank comments on various scales, based on how much the statement questions or cautions against the COVID-19 vaccination. Facebook admits they are willing to censor comments, EVEN IF THEY ARE TRUE.
Here are some of the highlights from today's release:
Comments that include "shocking stories" describing "potentially or actually true events, or facts that can raise safety concerns" — are demoted.
"I have to do something" about this outrageous censorship, one of the Facebook insiders said.
"They're trying to control this content before it even makes it onto your page, before you even see it," the other Facebook insider added. "If I lose my job, it's like, what do I do? But that's less of a concern to me."
Project Veritas reached out to a top Facebook Spokesperson about these documents and received only a brief and broad statement in reply that failed to address our biggest questions regarding transparency.
You can watch the video here: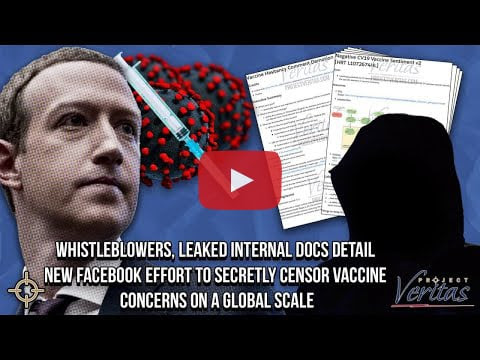 Shockingly, Facebook attempted to hide this project from the American people.
Project Veritas will never allow Big Tech to get away with lying or omitting information from the public — especially when they engage in blatant censorship to do so. 
Stay tuned…I will be joining Hannity shortly to discuss this story.
*TWEET OUT THIS VIDEO BY CLICKING HERE*
In Truth,
James
Kari is an ex-Community Organizer who writes about Cultural Marxism, grassroots activism, music, IndyCar racing and political campaigns.  @Saorsa1776