North Carolina's Lt. Governor, Mark Robinson, has a Task Force to investigate how Marxist ideology like Critical Race Theory (CRT) is impacting NC Schools.  Robinson has also signaled that the task force will examine how schools are teaching, not just issues of CRT, but about Gender as well.
After talking to two of the Task Force members, Terry Stoops of John Locke Foundation,  and Rep. David Willis, I decided to make the task force aware of a lesson that I first reported in National FIle in 2019, which is still being used today, according to social media posts. And of my video of a Wake Co, Parent's group where school officials informed people how to go around parents to push gender confusion.
Key Point: This is why having a Lt. Governor with a task force is invaluable for parents, in the past parents had to slip things to members in the media and be in fear of retaliation against their children.
I reported in National File in 2019, about a lesson called Genderbread Person, after being contacted by a parents group from the Apex Friendship Middle school, who were concerned- at the time- about the direction of North Carolina schools, who seemed to be pushing odd lessons on Gender.
The parents had wanted to remain anonymous over fears of anger from the schools against them and their children.
When I called to investigate, at the time, the school principal explained to me that the school had notified the parents of the lesson, however, the parents told me they were told the lesson was going to be about health, and not gender, and the parents felt they were not warned about the worksheet or the leftist nonprofit group behind the worksheet. Those were their concerns.
Social media posts reflect the same tactics used on parents in Arizona on the same Genderbread Person lesson, showing an obvious multistate agenda.
Quote from this article and yes this really happened here in Arizona. An EO is not enough.

Call your AZ legislators & ask them to send up a revised bill #SB1456 https://t.co/vRIvHRV3AL

— Vote RIGHT in AZ 🇺🇸 (@VoteRIGHTinAZ) April 22, 2021
Here is my 2019 article about how that lesson is being used in Apex North Carolina: 
'Genderbread' School Lesson Teaches Kindergarten Children To Choose Metrosexual
Apex Friendship Middle School Is Confusing Parents And Children
"I received a photo of a worksheet from a concerned community member about a Gender Identity Lesson given to 7th-grade students at Apex  Middle School, in Apex, North Carolina.
"It was very confusing what a Gingerbread Man has to do with domestic violence, which is what the lesson was supposed to be about," a parent who wanted to remain anonymous told me.
The source of the worksheet is InterAct of Wake County.
I discovered in open source information, that the Gingerbread Man was being used as lesson called "Genderbread," part of a wider lesson plan that is available as a resource to educators.
A website called Thesafezoneproject.com has provided a free lesson plan to go with the free "Genderbread" activity sheet.
According to the safe zone project, educators are to understand and communicate to children the following:
When we say "sexual identities or sexual orientations" what we are talking about are the ways we categorize and define who we are attracted to, romantically, sexually, or otherwise. When we "gender identities" we are talking about the ways we categorize and define our genders.
It is important to note that while we may hear mention of the LGBTQ community often, there are many times that we are not referring to gender identity or trans* issues, but referring to sexuality, and it is important to note the difference there.
The lesson continues on how to use the "Genderbread" activity sheet with children:
"A simple way to think about non-binary gender is with a scale that goes from man-to-woman, where folks
could plot how they identify somewhere along the line. Perhaps close to the 'man' end if they strongly
identify as 'man,' close to the 'woman' end if they strongly identify as 'woman,' or somewhere
in-between if they identify as genderqueer, bigender, or another one of the non-binary gender identity
labels we have," the lesson plan states.
"'The Genderbread Person v4′ is reader & patron funded, 100% free and uncopyrighted. Join or donate to help support social justice media." according to the website ItsPronouncedMetrosexual.com, the source of the "Genderbread" lesson activity sheet.
The Genderbread Lesson has it's roots from the Gender Unicorn lesson for 5-year-olds.
From the Genderbread free activity sheet lesson, written by "social justice comedian" Sam Killermann:
Gender is a tough subject to tackle. There are many facets to consider and many pressures at play, and we
have all been conditioned in such a way that our first instinct is almost unanimously wrong. But we're going to tackle it. No. We're going to tackle the snot out of it. Coming to our aid, I would like to present to you: The
Genderbread Person!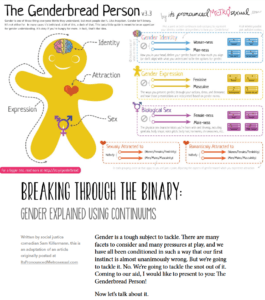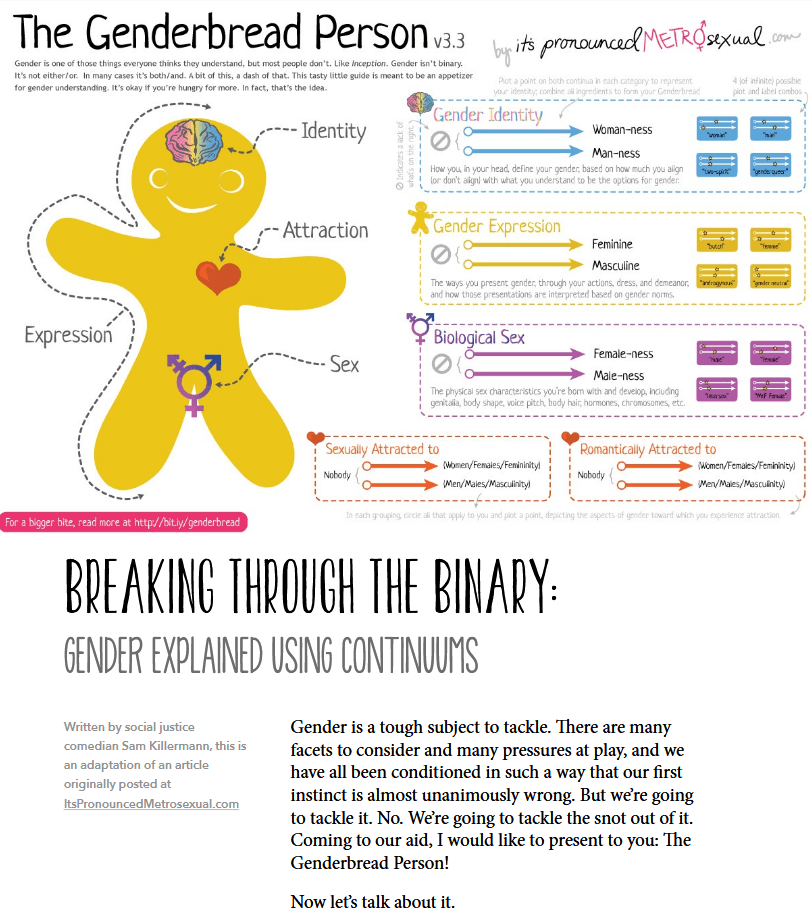 Another issue that is right in Robinson's own state, North Carolina, has a problem with school employees who are comfortable going around the parent's directives about the use of pronouns and about teaching Gender.
I covered that in April:
Undercover Video Shows School Officials In Wake Co. North Carolina Say 'Go Around' Parents, To Affirm Even Elementary Kid's Gender Choice
One possible ramification for this type of gender confusion lesson, which educators, lawmakers and parents should be concerned about, occurred in 2019 according to court witnesses, Dr. Daniel Schumer, a pediatric endocrinologist from the University of Michigan testified in a Texas family court case of James Younger, a 7-year-old, whose divorced parents are at odds over the gender assignment of their child.
The father is being evaluated by a court for the mother's claims that the biological father is abusive because the father struggles with calling his child "James", and not "Luna" as the Mother insists the child be called.
The mother claims the child is transitioning gender identity. The mother has medical experts on her side.
"Gender is an internal sense of oneself as a boy or girl, man or woman, or any gender in between … it's a social construct," Schumer said in court. "Everyone is born without a gender identity."
These are the concerns that concerned parents have about Gender lessons.
HOW TO REPORT SIMILAR CONCERNS TO THE LT. GOV's OFFICE:
F.A.C.T.S Task Force: Fairness and Accountability in the Classroom for Teachers and Students
Lieutenant Governor Mark Robinson is seeking to provide support for parents, teachers, and most importantly, students who are willing to stand up for North Carolina's future by exposing indoctrination in the classroom and ensuring that our students are taught how to think – not what to think. The Office of the Lieutenant Governor is establishing a Task Force (FACTS) to monitor the state of affairs within North Carolina classrooms. The primary goal of this task force is to allow the voices of concerned citizens to be heard regarding public K-12 education in North Carolina.
The FACTS Task Force advisory board is composed of education professionals representing all levels of K-12 including teachers, administrators, and university professors.
Purpose of the Task Force.
To assist in holding local and county-level education officials accountable for what occurs in their schools;

To provide a safe and secure setting where education professionals can transmit concerns regarding their school without fear of retaliation;

To provide a central state-wide mechanism for gathering and sharing data related to parent concerns regarding public education, and to provide a mechanism for elevating awareness of concerns so that they can be addressed; 

To provide underrepresented parents and students a voice and an open line of communication with professional educator advocates for student experiences and outcomes;

To assist concerned parents in navigating the bureaucracy within our public school system.
The FACTS Task Force is requesting that parents and teachers in North Carolina help us hold the system accountable. The Lieutenant Governor's Office is asking that you submit anything that meets the criteria listed below:
What to submit:
Examples of discrimination or harassment related to a student's faith, ethnicity, worldview, or political beliefs;

Examples of unequal, inconsistent, or disparate treatment of students in the enforcement of school rules and/or in disciplinary matters;

Examples of students being subjected to indoctrination according to a political agenda or ideology, whether through assigned work, teacher comments, or a hostile classroom environment;

Examples of students being required to disclose details regarding their individual race/ethnicity, sexual preference, religious ideology, or economic status

Examples of students being exposed to inappropriate content or subject matter in the classroom, including matters relating to substance abuse, profanity, or of a sexual nature.
Further reading:
People who have more examples of these kinds of lessons should contact Lt. Gov. Mark Robinson about their concerns.
NC LT. Gov, Mark Robinson, Invites Dems To Evaluate Schools In Country's First 'Anti Indoctrination' Task Force
Lt. Gov Mark Robinson And NC Senator Phil Berger Slayed CRT With The Assistance Of Moms
VIDEO OF THE DAY
Idiots Twerk On Ambulance After Shooting In Oakland, CA

---
'Stop Programming Kids To Be Socialists!', NC Lt. Gov Robinson Hammers Public Schools, Predicts "Mass Exodus" (VIDEO)
Kari is an ex-Community Organizer who writes about Voter Engagement, Cultural Marxism and Campaigns. She has been a grassroots volunteer with the GOP, on and off for 18 years. She is a Homeschool Mom in North Carolina and loves Photojournalism and Citizen Journalism. @Saorsa1776