Texas State Senator Wendy Rogers has announced that 92 Legislators from multiple states have signed onto a request to audit all 50 states and to decertify the 2020 election results where necessary. If enough state elections are overturned, they want the US House to convene to take up the process.
A 50 state audit would be interesting, especially since if the vote for Biden was inflated in most states it would expose those who want to go to the popular vote in deciding elections. It would also once again expose the genius of the Founding Fathers.
The audits could also show that down-ticket races could have been decided by illegal votes. This could create a constitutional crisis if legislation was passed by these legislators who were elected unlawfully if any.
Here is the letter: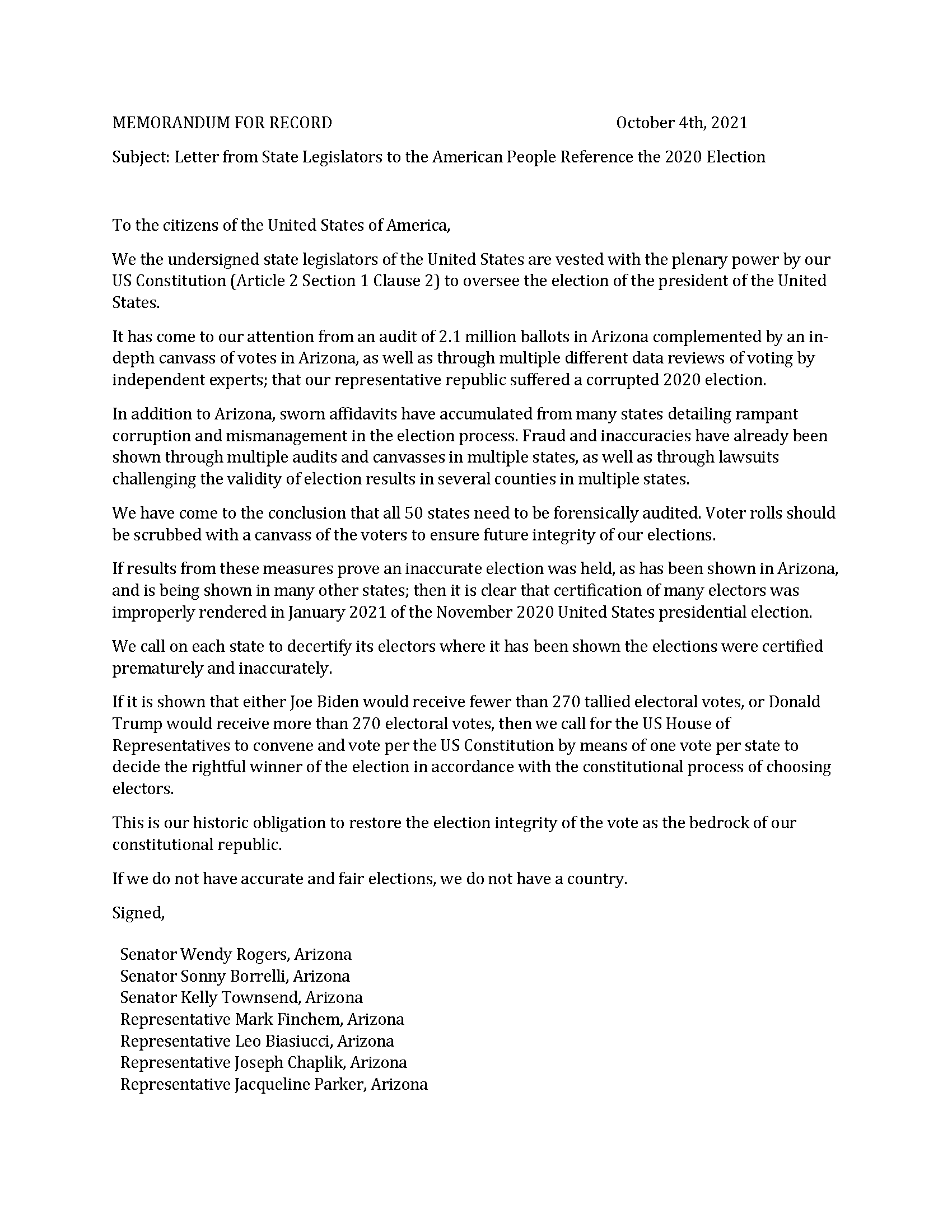 After the comprehensive Arizona audit of Maricopa County was completed, it revealed that there were at least 5 times more illegal votes than would be necessary to overturn the election in Maricopa County alone.
No Democrat had carried Maricopa County since Harry Truman. Basement Joe hardly campaigned and his campaign stop in Arizona just before the election had an attendance in the dozens. Disappointing at best.
"All voters within the Final Voted File, or VM55, was cross-checked against a commercially available data source provided by Melissa called Personator and 86,391 individuals were found with no record in the database for either their name, or anyone with the same last name at the address in the VM55 file," according to page 56 of the report entitled "Maricopa County Forensic Election Audit: Volume III: Result Details."
Experts say that there is enough evidence to decertify the Arizona election:
"We are in uncharted territory, but there are a couple of things to point to," began Eastman. "We can point to the Hawaii Election of 1960, when the Governor subsequently certified another slate of electors after they discovered error in the initial certification."
"We can point to Section 2 of Title 3 of the United States Code that says when a state has had an election, and has failed to make a choice on the day prescribed by law, which is, you know, the choice that was made. The assumption was that it was fraudulently given because of illegal votes. The electors may be appointed on a subsequent day in such manner as the legislature of such state may direct," Eastman continued. "So that recognizes the authority of the Legislature to fix a problem."