Chase bank has apologized to the Flynn family for what they claim was a mistake in the cancellation of credit cards belonging to his wife apparently. Some people erroneously claimed it was his credit cards. Either way, it was apparently done in the name of wokeness. Chase's letter of August 20th stated in part, "we decided to close your credit cards on September 18, 2021 because continuing the relationship creates possible reputational risk to our company."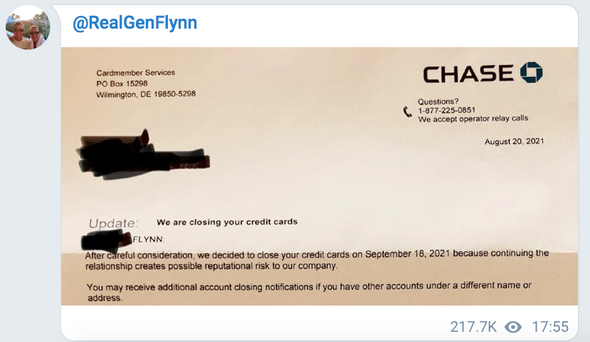 As you will notice, the first name has been blocked out of the letter. Some news outlets took it for granted that it was general Flynn's cards that were cancelled, but a letter to the Blaze from Chase Bank proves that it was not. That letter reads:
"We've contacted our customer to let her know that we made an error and we apologized for any inconvenience this caused."
At the time of the cancellation, General Flynn wrote:
"Chase Bank has gone full blown woke! They need to deal with their own reputation instead of persecuting my family and I. [Department of Justice] dropped my case for their own egregious government misconduct, appears you weren't that lucky with the DOJ. I guess my America First political views don't align with yours. Your loss."
Flynn's reference to Chase Bank and the DOJ refers to a settlement Chase was forced to make in a case where they were accused of trying to defraud Precious Metals and U.S. Treasuries Markets. That settlement cost them $920 million dollars.
https://www.justice.gov/opa/pr/jpmorgan-chase-co-agrees-pay-920-million-connection-schemes-defraud-precious-metals-and-us
Flynn in his Telegram retort to Chase doesn't say the Chase letter was sent to him personally. He only accuses Chase of "persecuting my family and I."
In addition, the recipient's name and address are blacked out in the image of the letter Flynn posted. All that remains is the surname "Flynn" in the greeting section. But TheBlaze magnified the blacked-out sections and used the iPhone photos app to adjust the contrast and filter out the black — and noticed the letters to the left of "Flynn" don't appear to be part of the names "Mike" or "Michael." However, they may be part of the name "Lori," who is Flynn's wife.
The Blaze on Tuesday asked Chase if the "her" in its statement refers to Lori Flynn, but the bank has not yet commented on that question.