Five Oregon counties have voted to leave Oregon in order to join Idaho. They have nothing in common with Portland and the far-left liberals that run it. They are extremely similar to residents in Idaho and aren't liberals always telling us that we have the right to choose or is that only for killing babies? They hope to have nine counties by the time they are ready to make their move.
They do have one major hurdle. The Oregon legislature has to approve it and ultra-leftist Kate Brown would have to sign off on it. It will also jumble up the 2020 census. Oregon would lose representation in the House and Idaho would stand to gain. Who knows what will happen. But if they do move then Democrats will rule what's left of Oregon forevermore.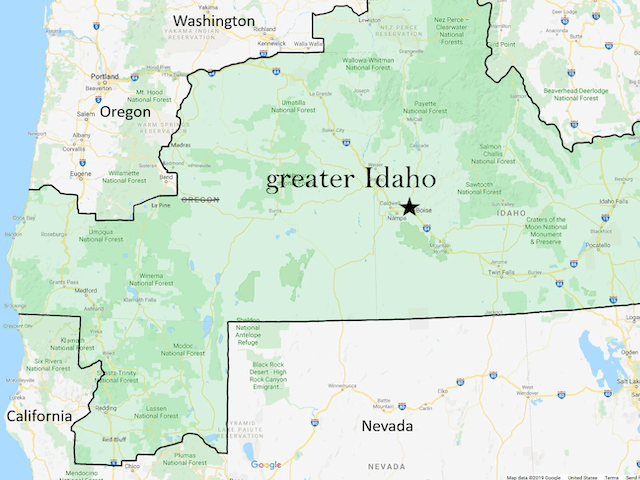 That would just about wipe Oregon off the map. Idaho would be huge although the land they would gain does not hold a lot of people. And if California splits up, who knows what the result of that would be. California is much less likely since it would create two Republican Senators, whereas the Oregon shift would not create any.
The Idaho Statesman reported:
Thousands of people in eastern Oregon voted Tuesday for their elected officials to consider ditching their state and becoming part of Idaho.
Voters in Sherman, Lake, Grant, Baker and Malheur counties all voted for ballot measures that would lead to them becoming Idahoans. People in Union and Jefferson counties had already voted in favor during the November election. . .
The vote is only the first step of the "Greater Idaho" project, which would allow some Oregon counties to join a state that advocates say more closely aligns with their political preferences.
Move Oregon's Border is a Political Action Committee formed in 2019. It concentrates its efforts on Oregon ballot initiatives.
Move Oregon's Border founder, Michael McCarter, announced the establishment of a nonprofit to help defray the cost of the border changes.
The effort has been hampered over the past year because of the COVID-19 pandemic but hopefully, that is now mostly behind them.