Health care worker Billy Chemirmir was charged in 2019 for the murder of 18 elderly patients in nursing homes where he worked. He is a suspect in 6 other cases. He very well may have murdered more but it is impossible to say.
He is the greatest mass murderer in Texas, But, Dallas prosecutors have announced that they will not ask for the death penalty. Chemirmir gained access to the patients and smothered them for their jewelry.
In a most heinous murder spree that has gone unreported outside Dallas, health care worker Billy Chemirmir was charged in 2019 with murdering 18 seniors ranging in age from the 70s to the 90s over the course of at least two years in north Dallas. He is believed to have used his access to seniors as a health care worker and smothered his victims to steal their jewelry. Civil suits name him as a murderer in at least six other cases, and given the age of some of the potential victims, there is no way of determining who else might have died at his hands.
As I reported at the time, Chemirmir had overstayed his visa from Kenya in 2003, but managed to use a lawless marriage loophole to obtain a green card rather than be deported. Despite racking up a subsequent criminal record, he was never tagged for deportation, which could have saved countless lives.
Daniel Horowitz of the Blaze assembled a timeline for Chemirmir: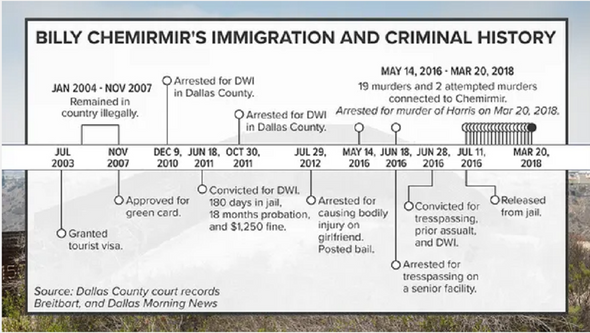 The District Attorney's office dropped a bombshell on the families. They will only be prosecuting him on two of the murders and they would not ask for the death penalty.
Here they listed the reasons for their decision:
They'd have to travel to Kenya to obtain witnesses describing Chemirmir's past, a task he believes is too arduous.
They'd have to prove Chemirmir is a danger to the prison population, yet he's been in jail since 2018 without incident.
He claimed "society is less accepting" of the death penalty, and many states, including Texas, have either abolished it or moved away from it.
It would take forever to execute him, as most capital cases take over 20 years to complete
Depending on sentencing, Chemirmir could someday be free. That would be a travesty piled onto a tragedy.