Larry Sabato of Sabato's Crystal Ball has a very dire prediction for the Democrats. Either the Democrats will lose the House majority or they are going to have to manufacture votes by the millions. He laid out a preliminary that doesn't take new seats or redistricting into account, both that favor Republicans and the Democrats are still hopeless. This will not end well for them.
First of all, there are the toss-up seats. At this time there are 21 seats deemed to be toss-ups. 19 of them are occupied currently by Democrats. In the lean-to states, there are 13 Republicans but there are 17 Democrats.
Those numbers pretty well explain why so many Democrats are retiring from Congress for the private sector or for higher office.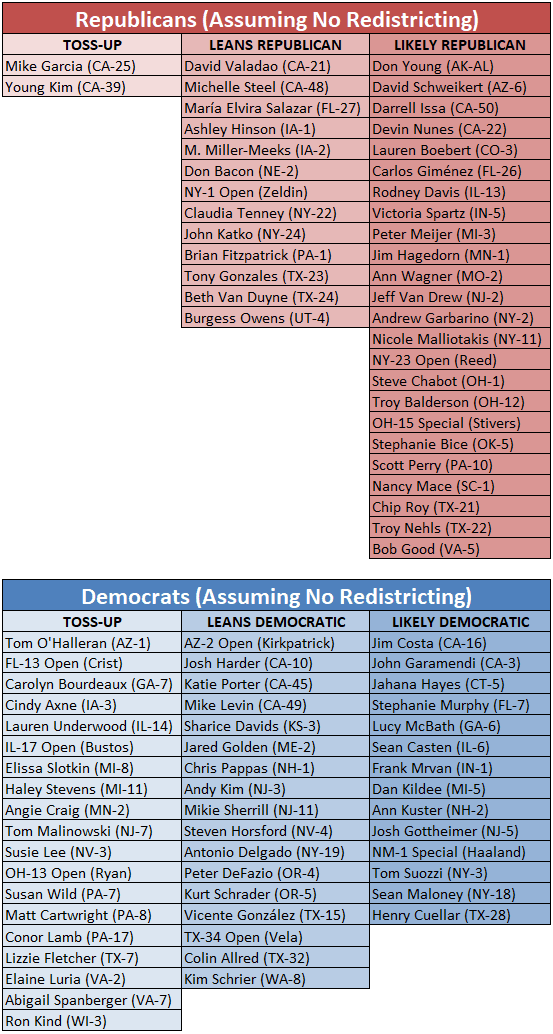 More good news for Republicans is that almost every single retirement on the Republican side of the aisle are RINOs and replacing them with a Trump Republican is the same as picking up another conservative seat. This is especially important in the Senate.
Sabato did not even take the policies the Democrats are pursuing into the equation. Had he done that it might be a total wipeout? Change is coming in 2022.
Another point that Crystal Ball makes is that incumbents from the non-WH party rarely lose in the midterm elections. Consider this:
No Democratic House incumbents lost in 2006 or 2018 when they won the House majority in two Republican presidencies.
No Republican House incumbents lost in the 1994 general election during Bill Clinton's first midterm.
Only two Republican incumbents lost in 2010 and 2014, noting the Republicans flipped the House in 2010.
The Sabato Crystal Ball report explains:
For instance, Reps. Charlie Crist (D, FL-13) and Tim Ryan (D, OH-13) have both announced statewide bids, and both of their seats are Toss-ups as open seats. It may be that the prospect of their districts being made more competitive (Crist) or being eliminated altogether (Ryan) is part of why these two members decided to run statewide.
Redistricting may also be playing a role in what recent reporting has described as likely Senate bids by Reps. Val Demings (D, FL-10) and Stephanie Murphy (D, FL-7) in Florida and Rep. Conor Lamb (D, PA-17) in Pennsylvania. We took these likely bids for higher office into account when formulating these ratings (as open seats, FL-10 is Safe Democratic as currently drawn, while PA-17 is listed as a Toss-up and FL-7 as Likely Democratic).