Cellular modems have been found in voting machines all across the country. That is not a good thing because it makes them vulnerable for hacking or some election official can use it to switch the votes or to send voting informatio0n to outside actors. This means you can never be sure if the results are accurate or not.
Both Georgia and Michigan bought machines with modems which Dominion Voting sells as accessories to the machines. Why in the world did either state have in specifically ordering the modems. No voting machine should be internet ready. No one from either state has qoffered anq explanation as to why they ordered  the modems.
Folks, Chinese modems being used for elections should make every voting machine that uses these suspect and open to forensic analysis or worse! Use would be indicated by the port seal being broken.

These modems communicate with a central reporting server also.

— ⚔️😼🌹Bad Kitty 真相 🌹 😼⚔️ (@pepesgrandma) December 7, 2020
Another problem is that the modems are from China and we know that they have put spyware into many of the products they sell so they can hack into it later and lift information from the machine using the modem.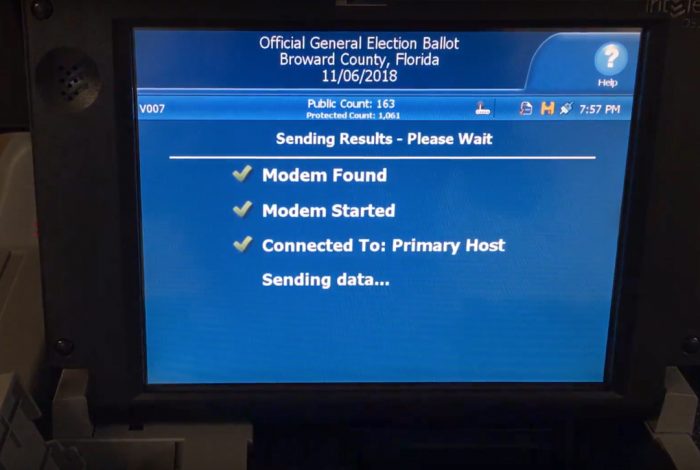 Emily Levy of AUDIT-USA noted:
"That kind of check on the system relies on a secure chain of custody. If the people who run elections in this country want the public to trust the official outcomes, they need to make sure they're using systems and procedures that are transparent, trackable, and publicly verified. Election officials must be held accountable for running secure and accurate elections. That includes making sure voting systems are not connected to the internet."
Experts agree that machines with modems should never be used in any machine used for voting. The only way you can be sure of the results is by doing a hand count of the ballots. But if you do that, why have voting machines if you have to count the votes by hand anyway. It makes no sense.
In this case, according to AUDIT-USA, modems were being used in voting machines in Florida:
In the past few days, election integrity activists got up close to the current generation of ES&S voting machines — close enough to record video of a digital scanner voting machine sending results wirelessly.
VIDEO OF THE DAY
Idiots Twerk On Ambulance After Shooting In Oakland, CA

---
The ability of the machines to communicate with the outside world has generally not been acknowledged by either the manufacturer or election officials. Yet this wireless link is at the heart of concerns that election results could be hacked or manipulated, "including attacks that could change vote totals and election results," said Emily Levy, director of communications at the voting transparency group AUDIT-USA.