UPDATE: Reports say the Death Toll in Waukesha is 5 with another 40 people injured.
The alleged Waukesha car attack suspect Darrell E. Brooks is being held as a person of interest in the attack during the Waukesha Christmas parade. We don't have a lot of details yet, but one thing we do know is that since the vast majority of his victims were white, he is obviously a white supremacist.  In fact, he must be the .black face of white supremacy, right  ERIKA D. SMITH of the LA Times?
At the time of the attack, Brooks was out on a cash bond for assorted felonies just two days ago. Brooks is believed to be the person that drove a red SUV through parade participants, injuring over 20 people in the process. Brooks is from Milwaukee but picked the conservative city of Waukesha to launch his attack. The police have announced that there were "some" fatalities but did not put a number on it.
Since Brooks has a long history of crimes, he must be a hero according to the Kenosha DA Thomas Binger. If he was in charge of this case, he would charge all 20 plus injured for maliciously attacking Brooks' fenders and bumpers without provocation. The mainstream media could then put their two cents worth in and pretty soon the survivors would find themselves in need of a criminal defense attorney.
Brooks was caught after police found t5hat he had left his ID in the red SUV.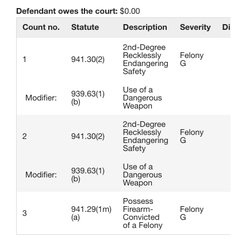 Here's the alleged Waukesha killer Darrell Brooks AKA Mathboi Fly rapping F*** Donald Trump F*** Pigs and saying he has an AK 47 like Malcom X https://t.co/LC6TZJwmvN pic.twitter.com/Hn2tATYPJ9

— Media Right News (@MediaRightNews1) November 22, 2021
Multiple reports, relying on scanner traffic on Broadcastify, claimed that a Waukesha police officer reported that the driver of the SUV was a black male. "There's a car going westbound approaching the parade course. A red Escape. Black male. I couldn't stop him. He's going westbound blowing his horn."
And, as I reported earlier, a man whose family was at the parade called into a local television station and reported that the driver was a black man with dreadlocks. That video has now been deleted.
However, according to NY Post reporter Karol Markiewicz, the person in custody is a black man with dreadlocks, Darrell E. Brooks.
This report hasn't been confirmed by the police yet. If you search the name provided by Markowicz, though, the person is a convicted felon with a long criminal record who was released on $1,000 cash bail for his latest charges on November 19, just two days ago.
But the name Darrell Brooks can be heard during a discussion about the vehicle with an officer at ~24:00 on this audio, saying that Brooks' identification was found in the vehicle. You can also hear the mention of "black male" and "dreadlocks" on this audio.